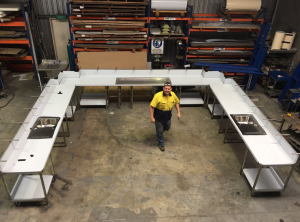 As usual our fabrication list for 2017 has included more than the usual requests of stainless steel benches, Stainless steel skirtings, column cladding and frames, and our work has travelled to lots of beautiful spots around our Fabulous state of Western Australia. Hmmm I wonder if we could start a whole new tourist venture…Visit some of the sheet metal fabrication projects completed by Coolsteel Fabrication in the past 12 months… Not sure if it would catch on, but what about this for an Itinery:-
First stop would be – Rottnest Island, to check out the stunning black wine cage at Thompsons Restaurant (waiting on photographers permission to publish the photos). Then a long road trip to Esperance, with lunch at Loose Goose Restaurant and visit our huge U shaped stainless steel bench with integrated sinks. Next, head west to Albany, where the Laundrobar is doing great work for holiday makers and hospitality venues on our oversized stainless bench. Heading way up north now, to see lots of powdercoated mild steel furniture and shelving frames at Christ The King School in Lombadina, in the stunning Kimberley, fabricate by Coolsteel in pieces for transportation, and assembled on site by SK Cabinets.
Heading back to the Perth Metro area (past RAAF Pearce and our L shaped bench and mobile benches) and we are going to have to eat and drink lots. Fish for lunch at the Gate Bar and Bistro (Fish scaled in their custom fabricated, motorised fish tumbler), Maybe the fish came from Sealanes, housed in their gorgeous fish display cabinets and icewells. Drinks at Tetsuo night club, and marvel at the Stainless steel bar top, drip trays and speed racks, followed by burgers at Flipside, prepared on…you guessed it a custom stainless steel bench top. Then out to Fremantle and Miss Chats where, in typical Freo style, limited space is fabulously utilised with custom glass rack assemblies, custom bar top fitted around a column, with ice wells and speed racks. We will fit in visits to various cafes, schools, canteens, and supermarkets to gaze at the stainless steel working walls, corner guards, splash backs, shelving, mobile trolleys, decorations items, frames, pelmets, door kick plates, strike plates, ramps and skirting in various materials such as Grade 304 stainless steel, or Grade 316-marine grade (for outside areas close to the ocean or salt water pools), or mild steel, galv, aluminium, colourbond, or zinc
Lastly, and although no-one wants to end up in hospital, so lets just visit. Sir Charles Gardiner Hospital Endoscopy staff, work better with their new, functional and hygienic stainless steel pass through benches and shelving and cabinets in their Cleaning & utility rooms, custom made for their specific needs.
And here endeth the tour. We covered many kms, and we only scratched the surface..luckily the surfaces are mostly stainless steel, and can be buffed out, or left for the "industrial look" which seems to be pretty popular in renovated older houses in the freo area, matched with stone benchtops…..sorry bad "Sheetmetal trades" Joke…. I'll stick to tour guiding.
Oh I almost forgot.. something to visit in January 2018 – Fenians Festival in Fremantle, will be cooking delicious BBQ on a huge scale, on our just completed, custom built Primal cooking system (watch this space for photos).
Wishing all our clients a fabulous, healthy, safe and happy Christmas and new year. There is still time have things fabricated before we finish on 22nd December 2017, call us on 08 9417 4233 or email coolsteelfab@aapt.net.au